What Should You Know About Commercial Cleaning Services?
8/12/2020 (Permalink)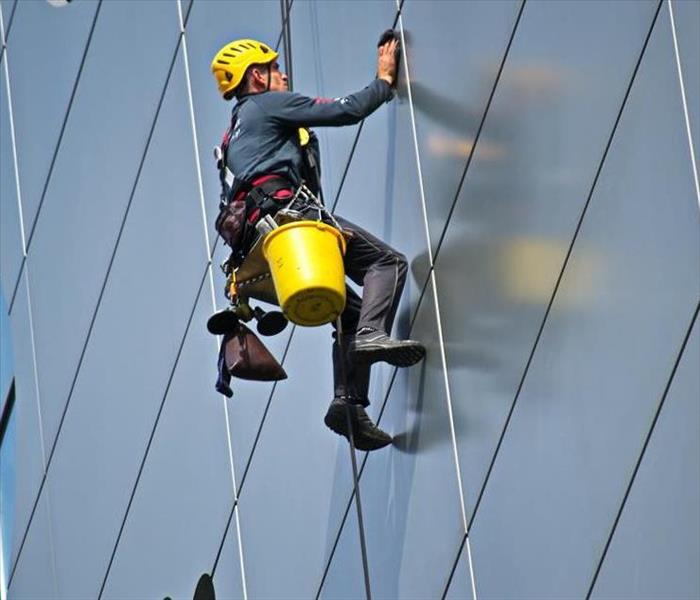 Commercial cleaning is the provision of cleaning utilities for commercial premises like businesses or offices. In both residential and commercial settings, we need thorough and regular cleaning to maintain a healthy and hygienic environment. Commercial cleaning services provide us with cleaning facilities that meet the standard regulations maintained for commercial areas. Cleaning is also necessary to provide everyone with a safe and healthy workplace, free from diseases. Commercial cleaning is a term used for any company that offers a cleaning service for office and business settings. Various restoration companies in Vancouver offer cleaning services with expertise, skills, equipment and staff to carry out the duties.
Why Should You Hire Commercial Cleaning Services?
Various reasons can trigger the need for cleaning service for a commercial setting. Some of these reasons can be as mentioned below:
Commercial cleaning services have crews trained and skilled in carrying out the service for office settings. These services are reliable in terms of service and expertise to complete the job in a timely and professional manner. Attempting a cleaning task by yourself will always leave it incomplete due to lack of equipment and knowledge. Professional cleaning services in this regard are highly reliable in carrying out the services with ease.
Everybody has a busy schedule in this busy time and allocating slot for cleaning activities is a highly unlikely facto to add in your commotion list. After a tiring day of work, you will be so tired that even the mention of cleaning task will become stress. Professional Restoration Companies in Vancouver will give you a time slot according to your work schedule, convenience and availability. The staff will arrive at your doorstep at the designated time, and you have the liberty to complete the cleaning task without hindering your schedule.
Commercial cleaning services use appropriate cleaning equipment to complete the service the cleaning job. Use of proper equipment is a necessary element of a successful cleaning gig in any setting (commercial or residential). The crew is trained to handle the material with the utmost expertise, and they use cleaning agents the does not pose a threat to your health or environment as well as compromising the structural integrity. You will always lack the equipment and expertise to handle them if you attempt a cleaning duty yourself. The use and handling of proper equipment is another reason compels us to hire professional cleaning services.
Professional restoration company in Vancouver like SERVPRO North Vancouver have the necessary license to practice their services. The license permits them to use the equipment, and they have insurance coverage in case of any damage done during cleaning duty.
Services Offered by Professional Cleaning Companies
Everyone wants to maintain a clean living and working environment, and in this matter, the best choice is to hire a professional Commercial Cleaning Company. They have the means and skills to carry out the service as promised, along with best cleaning solutions. Before you decide to spend your expense on a service that does not deliver you the quality you deserve, you should contact us instead for a quote, as we are a reliable company operating throughout Vancouver. Our cleaning services include:
Restoration companies in Vancouver provide professional standard maintenance services for their valued clients. This cleaning category includes wiping of dusty areas, litter clearance, floor maintenance and emptying trash bins. These services usually have contracts every week and carried out of an off day where no staff member is present to give the service without hindrance.
Carpet cleaning is also a service offered by cleaning companies that act as an essential cleaning solution. Restaurants, hotels, homeowners and offices usually attain this service, and the focus of this service is to make the place look tidy for anyone visiting. Commercial cleaning services offer this service to clean the carpets of dust that become a breeding ground for germs, bacteria and microorganisms. Clean carpets mean the place has a healthy atmosphere as cleaners use particular purpose product that create no threat to the environment or health. Carpet cleaning breathes new life into the upholstery and clear pathogens and spore while prolonging the life of the carpet. There is nothing more delightful than a clean rug to reflect your cleanliness.
Restoration companies in Vancouver offer sanitation services for establishments like clinics, hospitals, kitchens, restaurants etc. who need to meet standards of operating. Sanitation is a necessary aspect of any commercial establishment, and for this, their best bet is to hire a professional cleaning service. They know the standards of cleanliness that such establishments need and can sanitize your property accordingly. Sanitation services also eliminate the threat of contamination by clearing the area of bacteria and harmful viruses.
The professional image of any office or building comes to life due to the presence of graffiti that can turn off any business deal in progress. It gives an unprofessional impression to visitors or a client as well as reducing the value of a property. The need to hire a commercial cleaning service at this point is that graffiti is not easy to remove. Professional cleaners can use various removal material to clear the graffiti and retrieve the professional glory of the structure.
Window cleaning is standard in large office buildings or skyscrapers and is a service not everyone offers. Professional restoration companies in Vancouver like SERVPRO North Vancouver has the resources and expertise to carry out window cleaning services with the utmost consideration.
Commercial cleaning services have the expertise to take care of both commercial and residential jobs. There is not a very noticeable difference between them except for home and workplace setting. The cleaning crew employed by these cleaning services take special consideration in providing services to both types of clients. They provide various services like mopping, dusting, vacuuming, toilet and wall clearing with the utmost professionalism. They know the latest methods and techniques to give their client the quality of service that makes them the best service to consider always.