Types and Importance Commercial Cleaning Services
8/12/2020 (Permalink)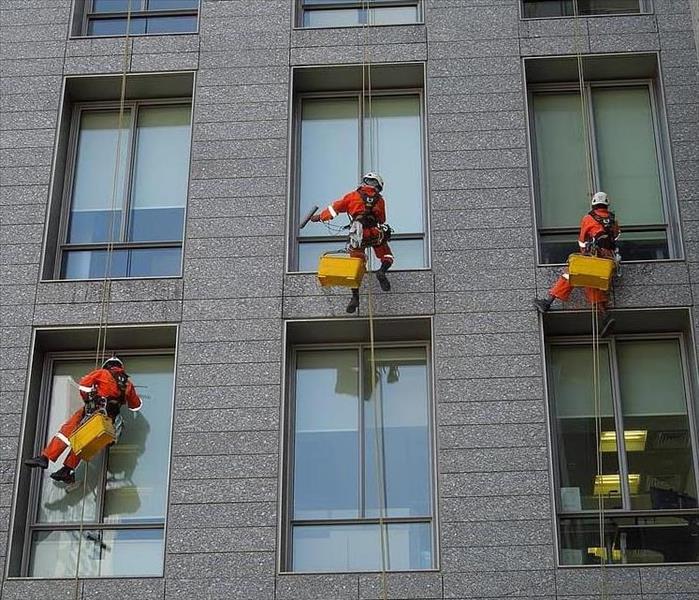 Commercial cleaning service means providing any premises, whether residential or commercial, with cleaning utilities. Our homes or offices need a clean and hygienic environment, and Commercial Cleaning Services in Vancouver provide us with excellent standards of cleanliness. Cleaning is also necessary because it keeps us healthy and away from diseases.
Commercial cleaning is a term used for any individual or company that provides cleaning services. There are various types of cleaning services offered by companies. These have expertise, skills, equipment, and staff to carry out the activities.
Reasons to Hire Commercial Cleaning Services
There are various reasons to hire a restoration company in Vancouver or other cleaning services for cleaning jobs. Some of these reasons are:
If you have a busy work schedule, then it is highly unlikely you can add cleaning to your commotion list. You might be so tired after your hard day that you will see cleaning as a burden. Commercial cleaning services in Vancouver give you a schedule designed according to your convenience and availability. The staff of any cleaning service will arrive at your doorstep at the given time. You can complete your cleaning activities without having to change your schedule.
Cleaning services have crews composed of skilled and professional cleaners to carry out any cleaning job. These professionals can complete various cleaning jobs at any appointed time. Completing all the cleaning tasks by yourself will always be incomplete because of a lack of equipment and expertise. Commercial services in this regard are highly reliable in carrying out various cleaning jobs with ease.
Restoration companies in Vancouver and other cleaning services use appropriate cleaning equipment to complete cleaning tasks. Whether the cleaning is for commercial or residential settings, the use of proper equipment is a necessary aspect. Cleaning services use equipment and cleaning products that do not pose any threat to your health or structural integrity. You might lack some equipment when you try cleaning by yourself, and hence your job will remain incomplete. The use of proper equipment is another reason that makes cleaning services suitable to hire.
Reliable cleaning services have insurance and license to use their equipment on your premises and take special care not to damage anything during their activity.
Different Types of Commercial Cleaning Services
If you want to maintain cleanliness, your best bet is to hire commercial cleaning services in Vancouver immediately. The experienced and skilled cleaning crew will deliver just as promised and offer you the best cleaning solutions. In case you have spent your hard-earned money on unskilled cleaners, you should ask for a quote from us, as we are a well-established cleaning company providing our expertise all over Vancouver. There are various cleaning services we offer, which includes:
Residential and Office Cleaning
As an expert cleaning crew, we have expertise in both residential and office cleaning. There is not much difference between the two other than home and workplace settings. The cleaning crew takes special care in providing sincere cleaning service to residential and commercial customers. They work in flexible hours, and the kind of cleaning includes dusting, mopping, wiping toilet cleaning, and vacuuming.
Restoration companies in Vancouver also provide standard maintenance services to their clients that cover wiping dusty places, clearing the litter, and emptying waste bins along with floor maintenance. This service usually gets a weekly or monthly contract.
Carpet cleaning is also a service that cleaning companies offer and is an essential cleaning solution. Hotels, restaurants, and offices, and sometimes homeowners usually take this service. The focus of this service type is to ensure that the home or workplace looks clean and tidy for visitors. This helps to maintain a healthy environment by clearing the carpets and other upholstery of germs and dust. Cleaners use unique products on a carpet rather than vacuuming to eliminate dust, stains, or spores and other pathogens present. Carpet cleaning breathes a new life and prolongs its life without the need for replacement. Nothing looks more delightful than a clean carpet at home or office that reflects your cleanliness.
Establishments like clinics, hospitals, restaurants, and kitchens must meet specific sanitization standards to remain operative. If sanitation is a necessary aspect of your establishment, then hiring commercial cleaning services in Vancouver is the best option, as they know the methods to sanitize your premises. Sanitization services also eliminate the threat of contamination later on while keeping the area free of germs and bacteria.
This type of cleaning service is common in commercial settings like offices, shops, or skyscrapers and is a service; not every cleaner facilitates. So, it is highly recommended to hire professional Restoration Companies in Vancouver for the job. Their specialized crew and skilled experts are well equipped to complete the job with the utmost consideration.
The presence of graffiti can give a commercial setting a lousy impression and turn off any ethical dealings in progress. This also affects potential customers, tenants, and applicants and reduce the value of your property. Another problem with graffiti is that it is not easy to remove. This makes commercial cleaning service in Vancouver the best option for removal services.
Importance of Cleaning Services
At both home and office, regular cleaning is a necessary factor to maintain a healthy environment and keep the area tidy. An adequate standard of cleanliness for a healthy lifestyle (residential) or required by regulations (commercial). Hiring the services of restoration companies in Vancouver for cleaning is essential for places where guests and visitors are frequent. The importance of commercial cleaning lies in taking a different approach to cleanliness. Businesses need to maintain a clean environment for their employees or homeowners for their families.
Staying clean and keeping, a tidy living/working area is the key to promote your image of a healthy and clean individual who has their priorities set straight. That is why cleaning needs to be a frequent activity for everyone to keep a healthy lifestyle free from diseases and illness.